– Fay White and Jane Thompson (aka Songs With Legs)
Each possessed of a beautiful singing voice, and with passion and warmth borne of a lifetime of commitment to song, Fay White and Jane Thompson make gorgeous music, with richness and intimacy in equal measure, and with glorious harmony. 'Songs with Legs' sing songs with something to say; songs that go places…. from wry humour about the beauty myth; to a heartfelt look at human rights issues; to story songs of the Grampians/Gariwerd bushfires, and much in between.  Fay plays gentle and sensitive guitar; complemented by Jane's powerful rhythm on maracas; and they also accompany on accordion, ukulele and whistles.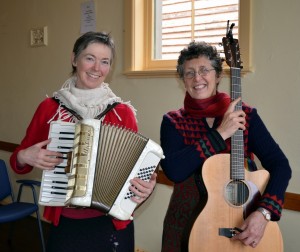 Fay and Jane are also experienced and highly sought-after singing workshop facilitators. Fay is the founder of the Vocal Nosh movement in Victoria, and through this initiative has brought joy and fulfilment through group singing, to thousands of people across Australia. Jane is a warm and engaging community and festival choir leader.  Fay and Jane have worked together facilitating singing leadership workshops for those seeking to strengthen their local communities through singing; and to build the skills of choir and singing leaders. They lead wonderful singing workshops – you will come away feeling warm, uplifted and ready for whatever the week brings!
See faywhitemusic.com if you'd like to know more ….